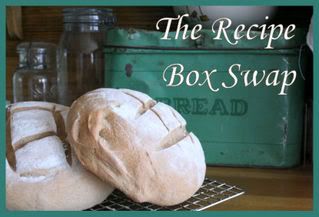 Randi is hosting The Recipe Box Swap again, and this month's theme is "Fun Foods" or anything that is sugary, salty, sticky or fattening.  I went to the "Fun Food" expert in our house, my son Dan.  I had him tell me what he thought a fun food was, and he said "Scotcharoos...so, Scotcharoos it is.
Scotcharoos
1 cup Corn Syrup
1 cup Sugar
1 cup Peanut Butter
5 cup Rice Krispies Cereal
1 cup Chocolate Chips
1 cup Butterscotch Chips
In a large saucepan, over medium heat, combine corn syrup and sugar.  Bring to a boil, stirring constantly.  Remove from heat, stir in peanut butter; mix well.  Add cereal; mix well.  Press into a greased 9x13 pan.  Set aside.  In a small saucepan, melt chips together.  Spread over bars, chill about 15 minutes before cutting.
~~~~~~~~~~~~~~~~~~~~~~~~~~~~~~~~~
I couldn't stop at just one recipe.  My DIL makes these and I can't claim the recipe.
Cornflake Bars
6 cups Corn Flakes
1 cup Sugar
1 cup Corn Syrup
1/2 cup Peanut Butter
Put sugar, corn syrup and peanut butter in a sauce pan and bring to a boil.  Add corn flakes and mix well.  Spread into a 9x13 greased pan.  Cut when cool. 
eta:  My DIL says to add the peanut butter after the sugar and corn syrup boil.